How to Fix 'Outlook Error 0x800ccc90'?
4 min read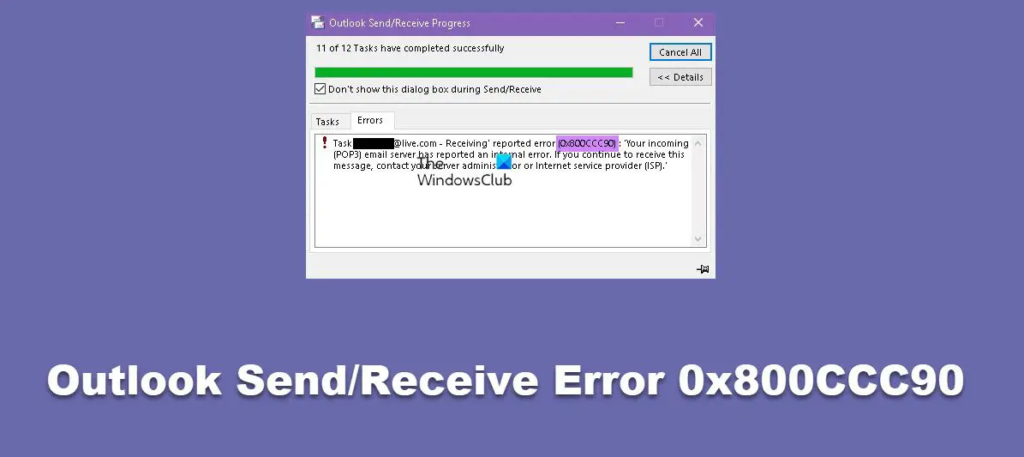 Are you tired of encountering Outlook errors that disrupt your workflow? One common error that many users face is the 0x800ccc90 error. This pesky error can prevent you from accessing your emails and cause frustration. But don't worry, we're here to help! In this blog post, we'll explain what Error 0x800ccc90 is, why it occurs and most importantly – how to fix it using Stellar Repair for Outlook. So sit back, relax and get ready to say goodbye to Outlook errors once and for all!
What is Error 0x800ccc90?
Error 0x800ccc90 is a common issue that Outlook users may encounter while sending or receiving emails. This error occurs when the email server rejects the login credentials of the user. In simpler terms, it means that there is some problem with your username or password.
When you try to send or receive an email using Microsoft Outlook, it communicates with your mail server to authorise access to your account. If for any reason, such as incorrect login information or network connectivity problems, this authentication fails then error 0x800ccc90 will occur.
This error can happen due to several reasons such as outdated software versions of Microsoft Outlook and Windows Operating System, corrupted PST files, antivirus software causing interference with Outlook settings and configurations amongst others.
It's always frustrating when we encounter an error message on our computer screen but don't worry! We will discuss how you can fix Error 0x800ccc90 in the next section of this blog post so keep reading!
Why Does Error 0x800ccc90 Occur?
Error 0x800ccc90 is a common issue that can occur when using Microsoft Outlook. This error code indicates that there is an issue with the username or password for the email account being used to send or receive messages.
One of the main reasons why Error 0x800ccc90 occurs is due to incorrect login credentials. If you have recently changed your email account's password and failed to update it in Outlook, this could be the cause of your problem.
Another reason for this error message can be related to issues with corrupted emails or PST file corruption. A damaged outlook PST file may not allow access to stored emails, causing errors during sending/receiving tasks.
In some cases, outdated or corrupt antivirus software also leads to such errors while accessing incoming/outgoing emails from Outlook through certain ports on Windows Firewall.
Network connection issues like server downtime and poor Internet connectivity may lead to Error 0x800ccc90 as well.
To fix this error code permanently, users need relevant technical skills and expertise in troubleshooting techniques. Using professional software tools like Stellar repair for Outlook are effective ways of resolving these issues without losing any data from their mailbox folders.
How to Fix Error 0x800ccc90
One of the most common errors Outlook users encounter is Error 0x800ccc90, which prevents them from sending or receiving emails. Fortunately, there are several ways to fix this problem.
Firstly, make sure your username and password are correct. This error often occurs when you enter incorrect login details for your email account.
If that doesn't work, try repairing your PST file using a reliable tool such as Stellar Repair for Outlook. This software can scan and repair damaged files, including those causing Error 0x800ccc90.
Another option is to check if any antivirus or firewall settings are blocking incoming/outgoing emails in Outlook. Temporarily disabling these programs and testing whether the issue persists can help identify the root cause of the error.
Ensure that your internet connection is stable and strong enough to support email communication within Outlook.
By following these steps, you should be able to fix Error 0x800ccc90 quickly and efficiently without hassle!
Conclusion
In conclusion, 'Outlook Error 0x800ccc90' can be a frustrating issue to deal with. However, with the right approach and steps taken, it can be resolved effectively. By following the solutions highlighted in this article, including checking login credentials for accuracy, disabling firewall protection and antivirus software temporarily, repairing PST files or reinstalling Outlook completely if necessary, you should be able to resolve the error quickly.
Remember that prevention is always better than cure when it comes to avoiding such errors. Make sure your email account settings are correctly configured from the outset and keep your anti-virus software up-to-date to minimize the risk of encountering similar issues in the future.
By keeping these tips in mind and implementing them as required, you'll be well on your way towards resolving any problems related to 'Outlook Error 0x800ccc90'.. Remember to always keep your PST files backed up and use reliable repair tools such as Stellar Repair for Outlook when needed.
With these tips in mind, you can avoid future errors and enjoy seamless email communication with Microsoft Outlook.